For the blog this week, we thought it would be great to hear from one of our local clients in Avalon we recently did some work for. This job started off with a beautiful outdoor carport and expanded into much more!
How many of us would like to do some changes to our home that don't require a council DA or architect but are just too big to tackle yourself? For us, it was a carport which had been sitting on the back burner for a year.
Making a note as to who was building in our area of Avalon, we contacted Buster at Trentwood Building Services who had built a lovely house up the road from us. We had been very impressed by the organised flow of trades and materials over the course of the build. It was reassuring that Buster was quick to follow up our initial inquiry with a visit to discuss our design, budget and timetable.
We had made a conscious decision to remain flexible with our timetable, aiming to complete the carport by the first half of the year and avoid the Christmas panic deadline which seems to start earlier and earlier each year.
IT WAS ALL ABOUT THE FINISH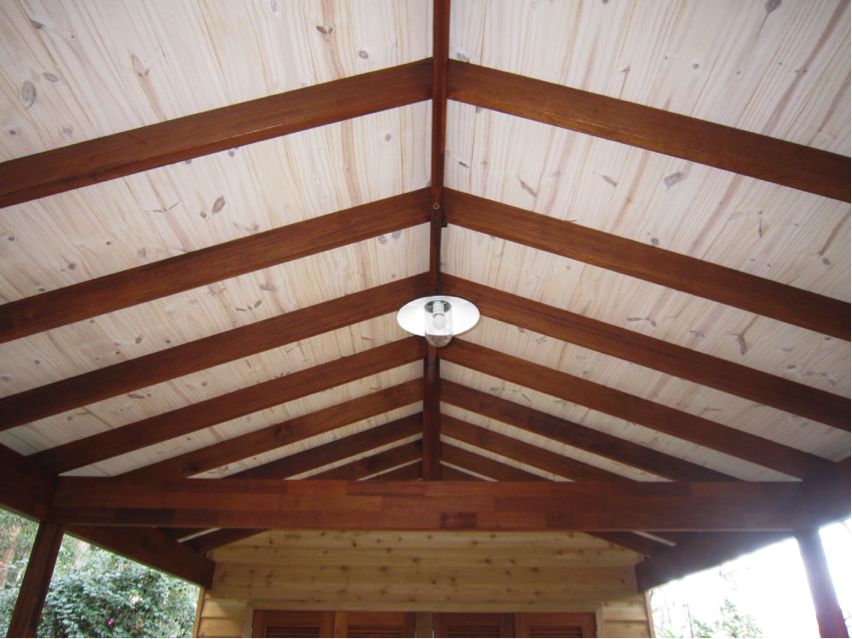 Using some very large laminated Merbau beams, the design required some precision carpentry. A storage area at the rear with cedar storm shutter doors and a white washed planked ceiling would complete the build. The Merbau cross beams were more expensive than traditional Pine but essential to the design and would compliment the materials and style of our house. As Buster said, "it was all about the finish".
Work started in May just when Avalon was experiencing howling cold westerly winds and record rainfall. At one stage, just when the roofing was half finished, a storm appeared out of nowhere, threatening to ruin the planked ceiling. Everyone had left for the day hours earlier. It was a great relief to see the builders return with a giant tarp to secure the site. Disaster averted!
ON TIME AND ON BUDGET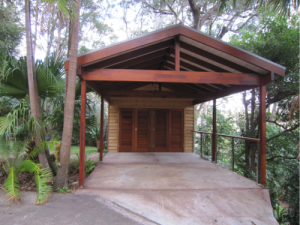 It took the two carpenters four weeks to complete, on time and on budget! The build had gone so well with very little waste from the lovely Merbau timber. Our steep driveway and the Bangalow Palms were not a problem for Buster.
We had finally found a builder that we had confidence in and immediately asked him to start work on some more of those projects we had on the back burner!
Do you have some of those jobs that you that are just a little too big to do yourself? Why not contact us! We'd love to help you improve your home and increase it's value, both to you and to any future buyers.