by NorthWestWebsiteDesign |April 1, 2019 |0 Comments | Blogs, Northern Beaches Home Renovation
Northern Beaches Home Renovation
The words "Home Renovation" need not strike fear in the hearts of the DIY illiterate. The truth is, it's never been easier to redesign your living spaces- with professionals dedicated to making your vision a reality. Having a home in Northern Beaches is, of course, by itself a solid investment. However, older properties could see a dramatic increase in value just by making a few simple upgrades. The subsequent headings detail two of the most important areas to focus on to perfect your Northern Beaches home renovation. See all of our building services that we offer.
Nailing the Kitchen
Without a doubt, the kitchen is the heart of any home. As well as being a central focal point, design decisions made here tend to set the tone for the rest of the house. A sleek, modern kitchen can really create the "wow" effect, often clinching the deal as far as prospective buyers are concerned.
A sense of space is crucial here. No one likes to work in a cramped kitchen and certainly no one likes to look at one. Cupboard and bench space should be maximised. An island bench top can be helpful as well as immensely practical in this regard. Despite the emphasis on "making it new", a seaside or rustic theme can easily be overlayed on an otherwise modern kitchen, creating a sense of regional character.
Bringing the Outdoors, In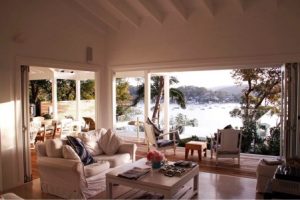 As previously mentioned, creating a sense of space and flow is critical to modern interior design. Your outdoor living area is no exception to this rule. Coastal regions, like Northern Beaches, particularly should take full advantage of the local, refreshing sea breezes. Folding or sliding doors leading onto a deck or outdoor living area provide an excellent means of seamlessly integrating the exterior with the interior. Gorgeous views should be fully capitalised on where possible. Large windows, not only aid in showcasing this aspect, but also help balance the home with plenty of natural light.
If you have any more home renovation questions, feel free to contact us. With over 20 years of experience in Northern Beaches Home Renovation, we'll definitely have the answers you're looking for.