The concept of the 5th room is centered around maximising the space and land your property provides. Taking advantage of every opportunity to expand and utilise your living area is one of the keys to amplifying your property value.
Spacious living that creates a flow from inside to outside is becoming more and more sort after and common in homes on the Northern Beaches. Taking full advantage of picturesque views and monitoring children's playtime activities are enhanced by the effective design and creation of the 5th room.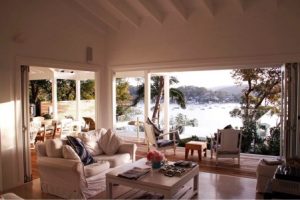 Renovating your home to follow this trend and demand for home-buyers is increasingly important to maximise your property value. Here are some key features of a 5th room that, if you incorporate, you'll reap the reward for:
SEATING
Setting up your seating appropriately for entertaining is key. Using the space without overcrowding it can be achieved by positioning tables and chairs in a way that works with the flow and design of your home. Your seating should also work with the positioning of your home and utilise the sun and shade; work with the elements, not against them.
Incorporating bench seating into the retaining walls adjoining the landscaping around your area is a great way to maximise your space for entertaining. This is one example where you can create a large number of seating options without encroaching the walk through space and having floating chairs everywhere.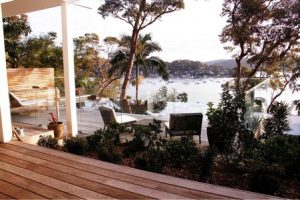 LANDSCAPING
Your landscaping needs to suit your environment and can really make or break the look and feel of your 5th room. Whether you are going for a slick or rustic look will guide the landscaping choices you make. Palm trees are often a popular plant in outdoor living areas.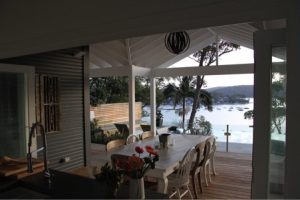 FLOW FROM INSIDE TO OUT & PROXIMITY TO THE KITCHEN
2 key ways to create flow from inside to outside is to incorporate bi-fold or sliding doors. You may need to remove some walls or change your space to allow for the installation of these types of doors but they are paramount into creating flow from inside to outside. Too many walls and doors is a quick way to destroy the feeling of flow form inside to outside.
Plus, there's nothing worse than having a huge journey from your inside kitchen to outside entertaining space. Having your kitchen close to your outdoor space gives you easy access to food and a preparation space. It also provides the benefit of being able to cook while also watching your children play outside, which for any young family is a huge benefit.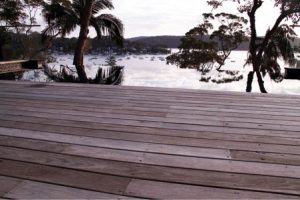 COURTYARD
A decked courtyard area is very popular on the Northern Beaches. It creates a holiday feel and maximises views! Ensuring there is sufficient covering and shelter is essential for entertaining and using your 5th room in all weather conditions.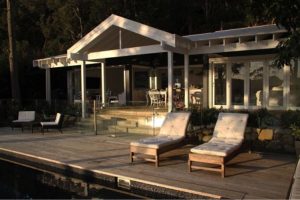 CHILD FRIENDLY
Building your outdoor living space to be child friendly is vital for attracting home-buyers. This is a key feature young families will particularly be very aware of and becomes increasingly important for entertaining purposes where you may have children over.
Building clear boundaries that incorporate fences and gates around pools, edges and drops is important to creating a child friendly space. This can be done all without compromising look, feel and flow of your space. Glass fencing is a good way to avoid impeding your view or altering the design and space of your home.
Incorporating these keys aspects in your 5th room will help you create a space that the market on the Northern Beaches is looking for. Even if you aren't looking to sell, you will be amazed at the opportunities a flowing indoor to outdoor space provides for entertainment and lifestyle.
If you're looking for other ways to improve or renovate your home, check out these 3 ways to add value to your home! Seen other ways people have really utilised their 5th room? Let us know in the comments! We'd love to hear you thoughts and ideas.